As the UK supplier of RoadCem™ , ConcreCem™ and ImmoCem™ products developed by PowerCem Technologies B.V., our company offers the UK construction industry a range of innovative project solutions for applications in the civil engineering infrastructure.
Our mission is to preserve natural raw materials. Our vision is to use or re-use all in-situ site materials. Our objectives are to supply end users of the technology with carbon reducing, ecologically and economically sustainable solutions.
We distinguish ourselves by our patented products, engineering expertise, bespoke advice and the scientific underpinning of our technology.
PowerCem have been used successfully by most of the major UK contractors and is now an accepted technology for stabilising soils and weak and/or contaminated materials of all types, both organic and inorganic.
Reductions of 82% CO2 have been identified using RoadCem technology when compared to standard designs for road construction. Full NIBE Environmental report is available in the Download section of this website.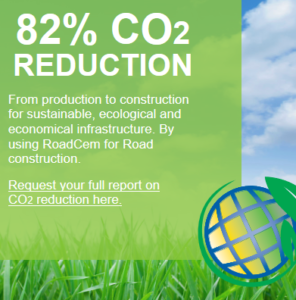 RoadCem is being used around the world with over 11,500,000 m2 of stabilised soils to date, a total of saving of 680,000,000 kg of CO2