Loughborough University Science Park


Our UK contracting partner Barton Plant Ltd were contracted to provide an earthworks package at Loughborough University Science and Enterprise Park at Charwood, Leicestershire.
The contract for Wates Construction comprised of a topsoil strip, excavation and filling, earth wall reinforcement, soil modification and stabilisation for new office building and car park.
A Reinforced Green wall was created by modifying spare topsoil with Roadcem, to produce a designed engineered fill to avoid the importation of primary materials and reduce the export of topsoil from the site.
This minimised lorry movements to and from site, reducing the environmental impact and carbon footprint. This also improved sustainability targets by reducing the use of primary materials.
The innovative topsoil retaining wall which was designed by Barton's key supply chain partners Rodgers Leask and Maccaferri is a good example of the unique value of RoadCem to contractors wishing to utilise topsoils and other weak site materials to construct site emabankments and earth structures.
A244 Walton Road Bridge for Costain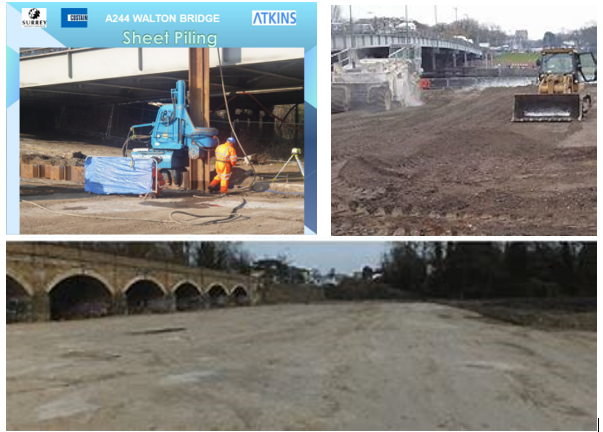 The very difficult Walton on Thames Road Bridge, won the Construction News £50m category in two consecutive years. Quote; "The innovative use of a unique cement stabilisation solution from PowerCem that allowed the existing alluvial ground on the eastern side of the river to be made hard enough to support scaffolding and heavy crane platforms and then be returned to its original state at the end of the project. This eliminated the expensive need to excavate, remove material, import stone and then remove the stone. This system has now been adopted as Environment Agency best practise"
Some facts and figures:
10,000m2 of RoadCem stabilised soil platform
3.0m of very weak alluvium overlaying river gravels and London clays, with highwater table just 0.8m below ground
Crane loadings of 80 tonnes/m2
Original platform depth 1400mm of stone, which would have required an additional 4,000 truck loads to site.
The use of RoadCem which allowed screw piles into the temporary platform, allowed a 20% saving against original budget.
Wolferton Pumping Station – Kings Lynn for Anglian Water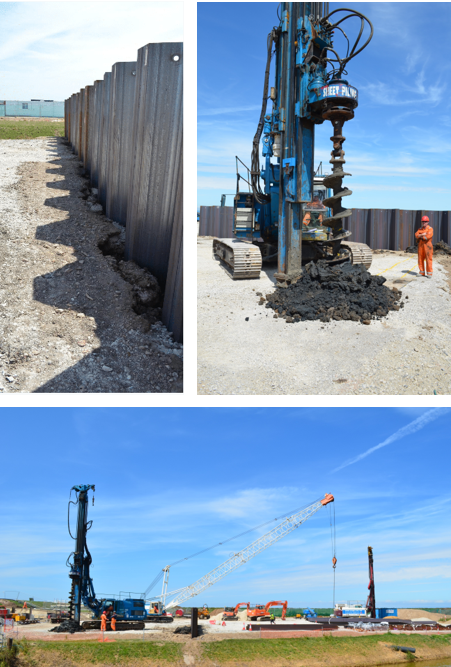 We were approached by Breheney who required a heavy duty crane and piling platform. Together with temporary access roads and a works compound, for Anglian Water's Wolferton Pumping Station Improvements.
RoadCem soil concrete designs were carried out by Rodgers Leask consulting engineers of Derby using multi-linear elastic modelling software to establish the correct dosage to allow the pre-existing site soils to be incorporated into a design solution to cope with the high anticipated loadings.
Our designated contractor DNS (Midlands) Ltd completed the full works within a week, using just the existing organic site soils, with no stone imported to site.
The works satisfied all the clients requirements and DNS returned site on completion of the construction to reinstate the stabilised back to agricultural specification.
The total cost cradle to cradle was considered competitive and the environmental impact kept very low.
Maritime Headquarters at Felixstowe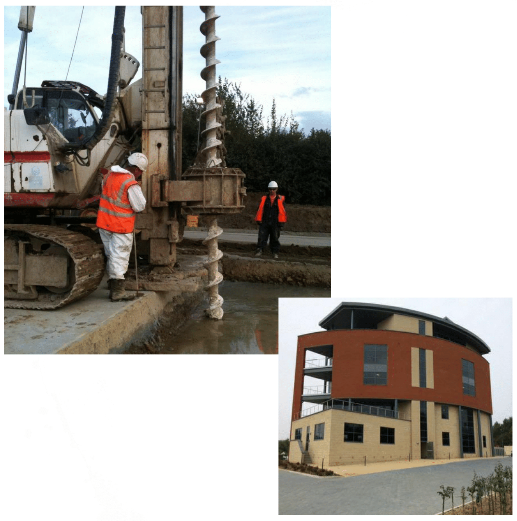 Working to designs prepared by Rodgers Leask Consulting Engineers of Derby. Geofirma Soils Engineering Ltd constructed piling mats, access roads and car parking for leading UK transport company Maritime Transport.
The design was a large dual height working platform constructed to a depth of 300mm from the in-situ site soils, with no imported stone or surface protection needed.
Advantages of using RoadCem technology in the overall design: The construction of a whole area weather proof working platform to final site levels. There was full use of all existing site soils and materials.
On this site auger piling was used, driven and sheet piling works equally well with the excellent visco elastic properties of RoadCem soil concrete.
With zero cracking and very little breakaway during piling. The RoadCem soil concrete platforms were ideal for the piled foundation works, road and car park base formation across the whole site.
Clay Mills STW for Severn Trent Water

Large RoadCem stabilised soil piling mat
RoadCem is an innovative material successfully used by MWH to stabilize ground conditions prior to piling a concrete structure (Activated Sludge Plant) at Clay Mills WwTW. Developed by PowerCem Technologies Ltd, the ASP ground stabilization at Clay Mills is a first for the UK water industry. The benefits of using RoadCem on the £39m upgrade project at Clay Mills WwTW included:
• prevented 2000 heavy-vehicle movements to site, significantly reducing H&S risks and carbon emissions
• saved £70k project costs
• reduced construction programme by three weeks
• eliminated 'blinding' of the ASP structure.
The VE workshops, led by the MWH design team, looked at soil stabilization techniques as an alternative to traditional stone piling-mat construction. Research by the design team indicated that an innovative new soil stabilization material called RoadCem could be viable. Desktop studies and on-site trials with industry experts confirmed that RoadCem would indeed be most suitable for stabilizing the organic soils at Clay Mills. Further analysis confirmed the commercial benefits of using RoadCem and the process was subsequently adopted at Clay Mills. Stabilizing the ground with RoadCem prevented 2000 return truckloads of stone being delivered to site and provided a safe and stable piling platform seven days after application.
Developing a sustainable solution
The Activated Sludge Plant (ASP) at Clay Mills WwTW is a large-scale civil structure (75m2) supported on driven piles. Before piling can start, a stone-based piling mat generally needs to be constructed to allow safe and accurate operation of the piling rigs. For the Clay Mills ASP, this would have meant a 600mm deep piling mat using over 6000 tonne of virgin aggregate (imported stone). As a threatened resource, virgin aggregates are difficult and costly to obtain and are a high-carbon product with few alternatives. Using RoadCem to stabilize the soil at Clay Mills has significantly reduced the use of this threatened resource and provided a wide range of additional sustainability benefits including: Virtually eliminating the unnecessary exposure to lorry diesel fumes to a local school and reducing the dust, noise pollution and H&S traffic risks from large scale movements of heavy vehicles in a busy urban area.
Cambridge STW for Anglian Water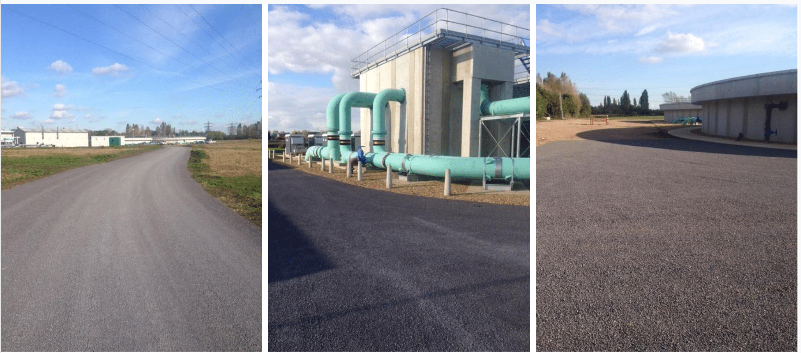 Early in 2013 we were invited by MWH Global to their Clay Mills site to meet the design team for the planned Cambridge STW redevelopment. The largest planned project spanning both AMP4 and 5 programmes.
The site in Cambridge had limited access from the busy A14 and needed a solution which reduce truck movements to and from the site by allowing the re-use of all the existing weak organic soils for construction purposes The existing ground was a mixture of soft brown silty clays with occasional layers of peat.
Following soil sample testing at our laboratories. Rogers Leask Consulting Engineers of Derby prepared mix designs to meet the required 100kN/m2 loadings for heavy tracked plant and the 13tonne axle loadings of delivery lorries for the two-year construction project. Warranted designs to allow the safe outrigger loadings and both crawler and truck mounted cranes up to 84 tonne per m2 were also produced.

In the late Summer of 2015 with all works completed our contractor DNS (Midlands) Ltd returned to the Cambridge site; milling areas back to soil and converting other stabilised sections to car parks and permanent site roads.
For some areas the original un-surfaced RoadCem soil concrete was adequate for ongoing use. For the car parks a thin gravel surface topping was added.
For the permanent site access roads after cleaning, these were given a tack course and finished with a resin and chip wearing course. Bonded directly to the soil concrete these should prove to durable and maintenance free.